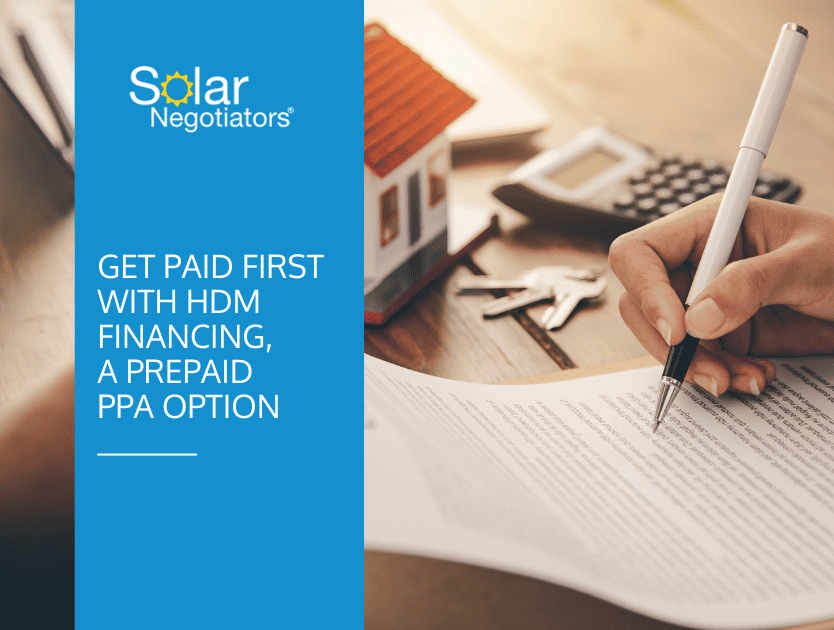 Get Paid First With HDM Financing, A Prepaid PPA Option
As the world continues to shift towards more sustainable and eco-friendly energy solutions, solar power is an increasingly popular choice for homeowners and businesses alike.
However, the initial cost of purchasing and installing solar panels can be a barrier for many individuals. This is where prepaid PPA (Power Purchase Agreements) and loans come into play, providing an attractive financial option for those looking to go solar.
What Is HDM Financing?
HDM financing helps homeowners save on the installation costs to adopt solar systems and batteries. This is accomplished by giving the solar customer an upfront price reduction that is equivalent to what they would receive with the Federal Solar Investment Tax Credit (ITC). With HDM's financing, homeowners pay a lower amount for a solar installation, instead of having to wait 6-18 months to claim the Federal ITC tax credits off the solar system purchases.
In order to qualify for the Federal ITC, your tax liability must be equal to or greater than the value of your tax credits derived from 30% of the solar and battery installation cost. HDM's financing option allows homeowners who won't get the full tax credit due to their tax burden or want to lower their monthly payments from the start. Many homeowners who are already retired, have many children, or are veterans fall under this bracket since they may not have such tax liabilities.

How Do I Get HDM Financing?
Let one of our solar experts know that you are interested in HDM Financing, and we can help set it up for you. The only requirement for HDM financing is that you own your property. There are no additional credit checks or qualifications.

The Benefits of a Prepaid PPA
Enjoy Your Tax Credits Upfront, Lowering Your Cost of Ownership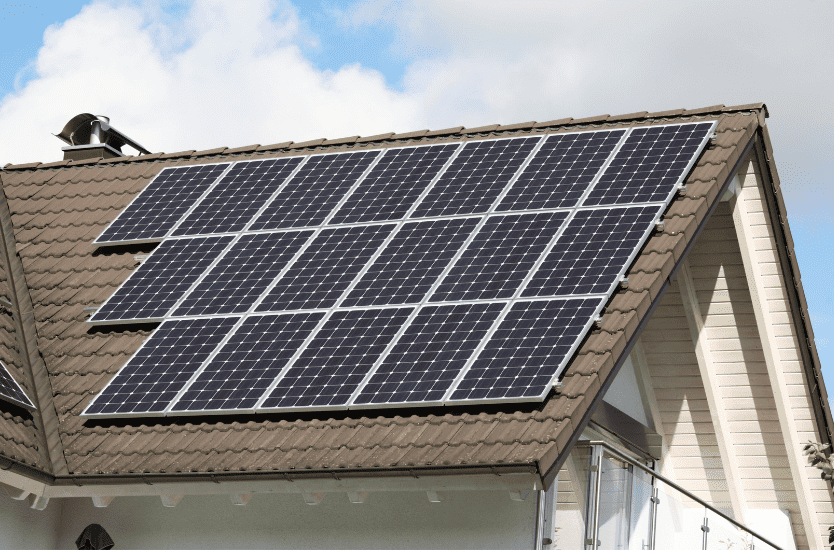 One of the most significant incentives for purchasing solar systems are the tax benefits. The Federal Tax Credit, also known as ITC (Investment Tax Credit) is a dollar-for-dollar reduction in the amount of federal income tax you would otherwise owe.
The Solar Investment Tax Credit can make a world of difference in the overall cost homeowners pay to go solar. It allows the solar customer to deduct 30% of the solar system and installation cost from their federal tax liability. It is a huge benefit to solar customers, but usually isn't seen as an immediate savings because customers must wait until the following year to file for this credit.
Solar Negotiators partnered with HDM Capital to lower the initial cost of your solar project by having HDM pay for the system upfront and utilizing your tax credit now instead of later. HDM monetizes your tax credits for you, allowing Solar Negotiators to offer you a lower price. Since you pay less to go solar with HDM's prepaid PPA, your cost of ownership is lower.  If you are financing the system, this means lower monthly loan payments. These are all just added benefits to system adoption as you make the transition to solar energy—the main savings will come from avoiding utility costs as you offset your electric bill.
Insurance & Maintenance Covered
HDM Financing covers the efficiency, insurance, repairs, and maintenance for the first 6 years after your system is installed. This benefit is a worry-free bonus and automatically covered.
In addition, if you go solar with Solar Negotiators, you receive our exclusive Lifetime Warranty package. We not only ensure your solar panels are installed flawlessly; it's about a commitment to your long-term satisfaction. The savings you'll enjoy over the years are directly tied to your solar system's performance. That's why it's crucial to select a solar company that will always stand by you and your solar system. With our Lifetime Warranty, you can trust that your investment in clean, renewable energy will continue to pay off, year after year.
When you choose Solar Negotiators for your solar journey, you don't just get clean, green energy–you become part of an exclusive club. Every Solar Negotiators customer is automatically enrolled in our lifetime Basic Pros Membership, and this package is one of a kind. It's something that's not available anywhere else. You'll receive annual panel cleanings, performed by our team of expert technicians. In addition, every panel cleaning comes complete with a visual inspection and written report with before and after photos.
Conclusion
HDM's Prepaid PPA is a smart way to embrace solar energy without having to wait on tax credits from the government. By entering into a prepaid PPA, you can enjoy the environmental benefits and cost savings of solar power while reducing the initial cost of installing solar at your property. If you're considering going solar but are concerned about the initial investment, a prepaid PPAs may right solution for you.
Get Solar In
Your Inbox
Subscribe to our company newsletter to stay up to date on the latest Solar Negotiators news!