What are the Best Solar Panels?
With so many products on the market, a lot of consumers are asking themselves, "what are the best solar panels"? Solar Negotiators is breaking down what qualities to look at and which brands stand out among the rest.
If you're just starting the solar research process, it can be difficult to know exactly what to ask your sales consultant. During your appointment, focus on the qualities that are most important when shopping solar panel brands.
Best Solar Panel Qualities
Efficiency
Affordability
Warranty Coverage

Product Quality is Key
Efficiency is the best way to measure the performance of your solar panels. By definition, solar panel efficiency is "how well your panels can convert sunlight into energy you can use to power your home" (energysage.com). Homeowners tend to focus on this when selecting a solar panel product for their home's new installation. However, it is important to consider all the factors that lead to choosing the right product for your solar system.
The process for calculating and measuring efficiency isn't as complex as you might think. A solar panel's efficiency rating means that it can convert that % of the sunlight absorbed into their cells into usable power, "most solar panels are between 15% and 20% efficient" (energysage.com).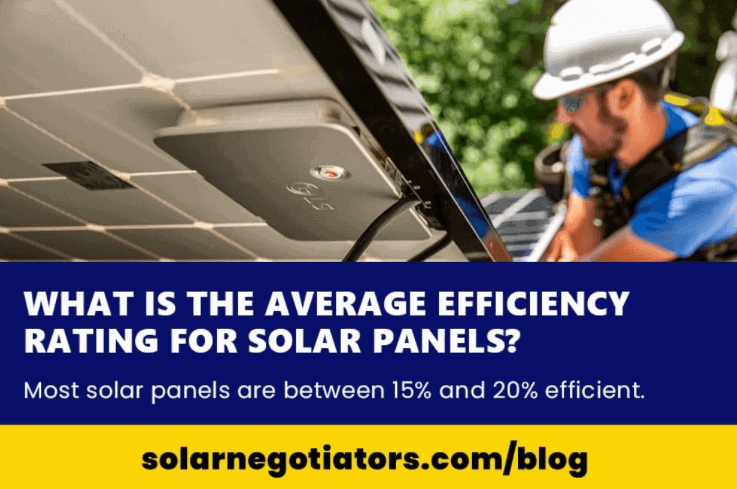 Pay Attention to the Price Tag
The reason we recommend focusing on more than just panel efficiency is that high-rated panels often come with a heavy price point. Sunpower is well-known for their high-performance panels, but the price difference can be anywhere from $5,000 to $15,000 extra depending on which of their dealers you get a quote from. You can get a comparable product (LG, Hanwha Q-Cell, REC) for much less. In the last five years, panel design and manufacturing practices have rapidly increased in efficiency, while pricing has come down. This alternative provides immediate savings and shortens your solar payback period.
Think about it, how long would it take you to recoup an extra $10,000 in energy savings? The investment is only worth it if you plan on being in the home 20-30 years, and for most homeowners that isn't ideal.
Make Sure You're Protected
It is important that solar customers understand the differences between the three types of solar warranties. You can read more in our article What Does a Solar Warranty Cover?. Today we are focusing on the two warranties that pertain to your panel manufacturer warranty.
Product Warranties are very important because it protects you from future costs associated with replacing failed or faulty equipment. A standard manufacturer warranty for most solar panels is anywhere from 10-12 years. This timeline was designed to cover the original buyer as long as they live in the home. Just like any other warranty, the longer the better. You want that extra layer of protection for as long as possible so you can save on the cost of replacing equipment if something goes wrong.
Performance Warranties relate to the efficiency of your solar panels. Your system could appear to be "working" but not producing as expected. A performance warranty is a guarantee that your solar panels will maintain a certain output over a determined time period. An article on What You Need to Know About Solar Panel Warranties states, "Typically, a performance warranty will guarantee 90% production for the first ten years and 80% for up to 25 years" (goingsolar.com). However, newer panels on the market can have up to an 85% guarantee at year 25.
Our Top Panel Choices
LG

Hanwha Q-Cell

Sunpower

REC
We have ranked our top 4 solar panel manufacturers, taking into account all the factors mentioned in this article. Affordability plays an important role in a consumer's buying experience, and Solar Negotiators is an advocate for value over price. We believe LG is the top-ranking panel of choice for our clients. Our team recommends it to anyone looking for the best solar panel on the market for their new solar installation project.
Consider Long-term Sustainability
LG and Hanwha Q-Cell are included in our top two panel choices because they are both manufactured by some of the biggest companies in the world. These are companies with a higher likelihood of long-term sustainability, which can be advantageous in the buyer's perspective for a number of reasons. In the case that a panel manufacturing company becomes insolvent, replacing the panel will become very difficult. This is due to the fact that no one will continue manufacturing your brand of solar panel. At this point, your manufacturer warranty will likely become null and void.
The same is true for your workmanship warranty if your installing contractor goes out of business. Brand strength is often overlooked as a factor in a consumer's buying decision. Our team wants solar shoppers to know what role long-term sustainability plays, and why it can benefit them down the road.
Make sure you look ahead to the future, and consider more than price in your purchase decision when looking at installing solar panels. We hope we have helped you in selecting the best solar panels for your project.

Sign Up For Our Newsletter & Webinars
[contact-form-7 id="13663″ title="Email Subscription – New!"]