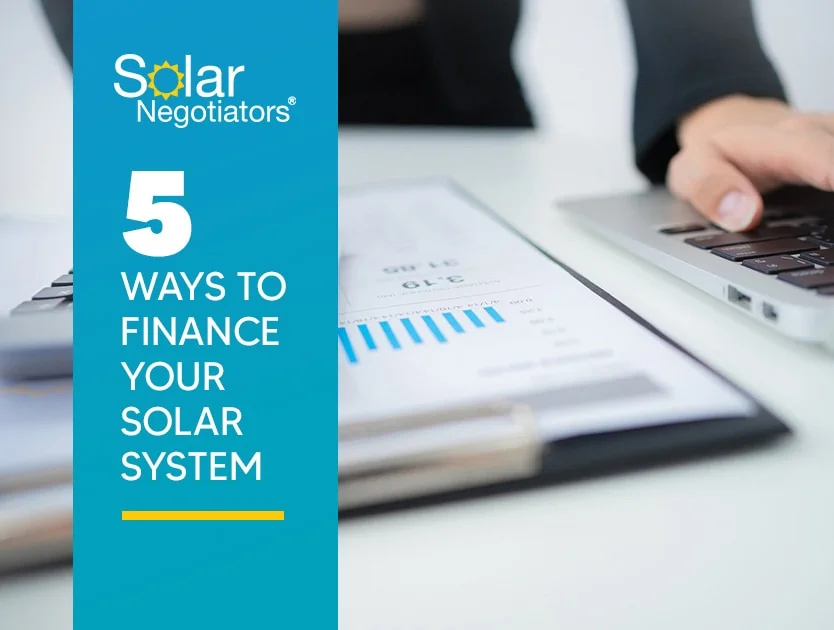 5 Ways to Finance Your Solar System
Looking to make a smart financial investment? Wish you could lower your rising electric bill? Want to make a positive impact on the environment? Then solar is the right move for you.
No matter what your reason, there's never been a better time to go solar than now. From lender financing to panel efficiency— virtually every aspect of the solar industry has been revolutionized over the course of the last decade, and Solar Negotiators, founded in 2009, has been part of that revolution every step of the way.
Overview of Solar Loans
Solar is one of the best financial investments you can make, especially if you purchase your system outright. Homeowners can often receive 40% of their investment back within the first year. This is accomplished when they couple the 26% Federal Solar Investment Tax Credit (ITC) with the year-one energy cost offset. Most solar purchases have a return on investment of about 4-7 years. After this, the savings accrue exponentially for the lifetime of the system. Apart from luck with high-risk investments, there are few opportunities in today's market that can offer this kind of financial return.
Financing your solar system with a solar loan allows you to own an asset that generates significant financial value.
Control over the cost of your electricity
Protection from your utilities rising prices
Savings from the federal solar tax credit
Increase your property value
In this article you will learn what solar financing options are available. Find out which option could be the best for you when you do decide to upgrade to solar.
Types of Solar Agreement Options
Solar Loans
A solar loan can be either secured or unsecured, meaning you either will or will not have to put up collateral. A solar loan functions in the same way as a traditional car loan. Each payment you make you own a little bit more of your solar system until eventually full ownership is transferred to you as the last payment is made. Like Solar Negotiators' 3rd-party lenders, many financial institutions offer competitive financing rates for solar system installations for amounts as little as zero dollars down. This option is attractive to solar buyers with a solid credit score (620+) who do not wish to invest a significant amount of capital up front.
Solar Leases
A solar lease can sometimes appear more affordable than a loan, especially in the first few years. However, solar lease terms are typically much longer which can be problematic if you want to move out of your home. Unlike moving forward with a solar purchase, you are still subject to annual rate increases from the utility provider.
A homeowner will also never own a leased system and is therefore not eligible for the federal solar tax-credit. Leases can sometimes make sense for homeowners without federal tax liability.
Longer terms (20-year minimum)
Hard to get out of contract
Subject to utility rate increases
Low monthly payments
No additional loan debt
For homeowners who plan to live in their homes for the next 10-15 years, solar leases will only save people about 50% compared to ownership. Be sure to read all the fine print if you are considering entering into a solar system lease agreement. It is important to make sure you know exactly who is responsible for the maintenance and repairs of your system, as it is often made unclear.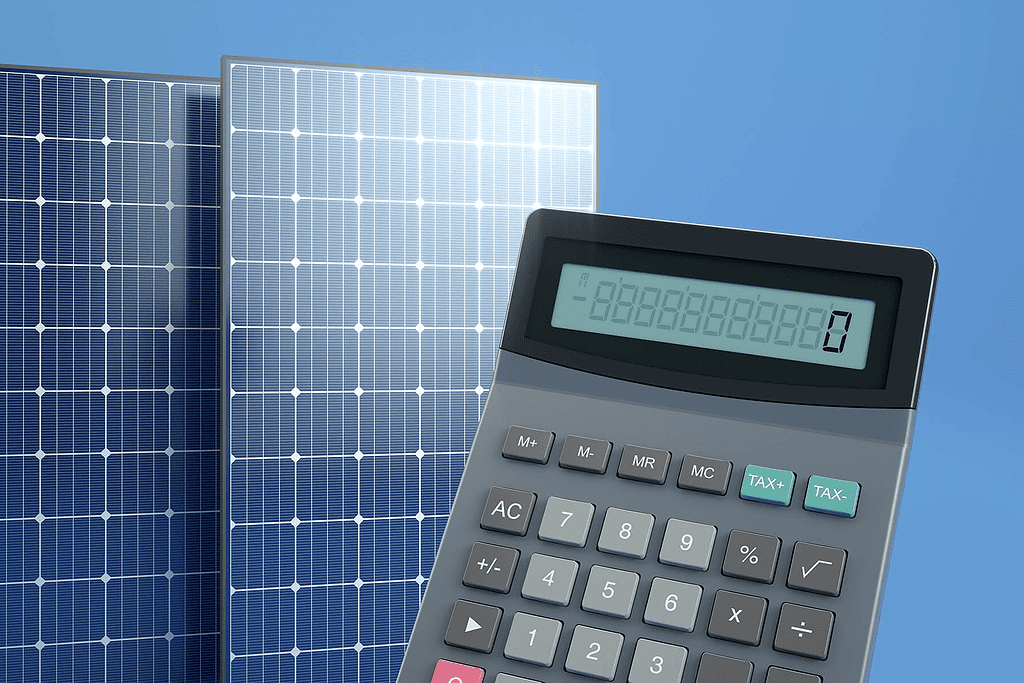 Power Purchase Agreement
Power Purchase Agreements are similar to solar leases. The solar leasing company installs a system on your property, and you as the homeowner, agree to pay a fixed amount per kilowatt-hour that is typically competitive with other local energy rates. However, unlike when purchasing your solar system, you will always pay for the full amount of how much energy is produced, regardless of how much is used. Like with a solar lease, a PPA agreement disqualifies you from receiving any tax credits since you don't own your system.
R-Pace Loan
The Residential Assessed Clean Energy loan program is run by states, counties, or municipalities and funded by private lenders. These loans aren't available everywhere, but if they are available in your local area they can provide you with a very secure form of low interest lending. With this type of loan, your payments are assessed to an increased property value and you pay an increased annual property tax until the loan is paid down.
Fannie Mae Mortgage
In combination with the EPA, Fannie Mae offers an energy mortgage that allows you to finance energy improvements as part of your home's mortgage, worth up to 15% of your home's appraised value. This allows you to consolidate your debt with one lender.
Solar Loan Options at Solar Negotiators
With a qualifying credit score, our clients are able to receive the very best financing rates. All of our solar financing options are a $0 down initial investment with tax savings. Purchasing a solar system with a solar loan agreement may qualify you for additional tax credits, which means more money for you.
$0 to Little Down
Tax Credit Savings
Short-term Loan Options
Long-term Savings
Not only do we offer 0% down on every loan, but we're also able to offer multiple solar financing options through our third-party lenders. Solar Negotiators is here to help you find an affordable financing option so you can get the solar panels you need to start saving on energy.
Time to Go Solar
At Solar Negotiators, we offer zero-down financing at competitive local rates. If you would like to know more about your solar financing options or how much a solar system might cost for you please call us now and set up a free consultation.
There are many options available when it comes to solar financing, but oftentimes only one is right for you. So, be sure to do your diligence before you begin your solar journey by choosing a company with a proven track record and solid online reviews from their happy and successful customers. Now is the time to go solar.


Get Solar In
Your Inbox
Subscribe to our company newsletter to stay up to date on the latest Solar Negotiators news!