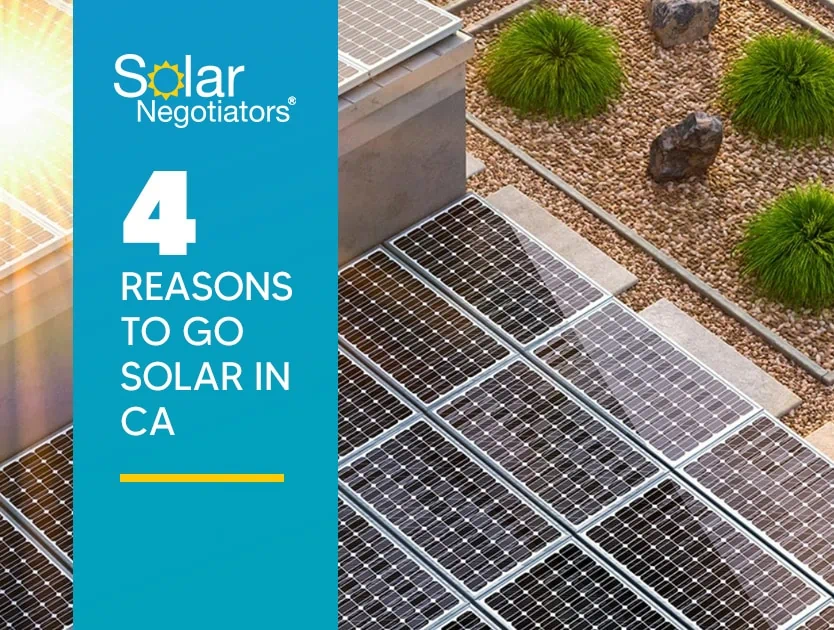 Why Go Solar in California: 4 Reasons
Solar has been a hot topic for the past few years, and the clean energy market is finally taking off in earnest. States across the country are choosing to set aggressive renewable goals, contributing to a more sustainable future. Many homeowners choose to go solar as an investment into future savings. Others choose to get solar panels installed because they are environmentally conscious and want to make an impact.
The bottom line is that solar panels are a sound investment for many types of homeowners. But there are other benefits to going solar if you live in California, including additional incentives and programs. Here are four reasons why you should make the switch if you live in the Sunshine State.
1. Electricity is Expensive
Energy bills for California residents are at an all-time high. A combination of more time spent at home, expensive utility rates, and high temperatures have had a big impact on homeowners' energy demands. California has one of the highest utility costs in the United States. They've increased their utility rates five times more than any other state—so you can bet they will keep going up. But when you go solar, you will not only save money producing your own power, but you will avoid the rising cost of electricity.
2. There's Plenty of Sunlight
This will come as no surprise to anyone, but California has plenty of sun, being the country's "Sunshine State."
Since solar cannot function without proper sun exposure, it makes sense that California leads all 50 U.S. states in solar electricity production.
Solar power makes the most sense when you have high power bills and good exposure. The more sunny days there are in the year, the more electricity your solar panels can produce and the more money you can save. And the closer you get to offsetting your monthly electricity cost with solar energy production, the faster you make your solar investment back.

3. Temperatures are Hot
Although California only ranks #10 in the country's list of hottest states, it is home to many cities with the most extreme temperatures.
Fresno, CA, for example, is the state's second-warmest city with 108 days of temperatures over 98 degrees. Some of California's largest cities like Los Angeles, Sacramento, and Bakersfield have long seasons of high temps too.
Energy bills can increase exponentially during the summer months because of the heat. This is because it becomes increasingly difficult to keep internal temperatures of homes at a comfortable level. Because cold air escapes through cracks and windows in inefficient homes, the air conditioner will sometimes need to be run all day. Energy demands can sometimes double or triple in some cases during the summer months as people try to make their homes comfortable place to live.
4. Home Solar is Taking Off
California recently passed a solar mandate as part of its initiative to go green.
In order to meet their ambitious renewable goals, they are now requiring all newly constructed homes to have solar panels installed.
Why does this matter for you?
Because solar homes will eventually become the gold standard homebuyers are looking for. As this mandate takes effect, a large percentage of homes on the market will already have solar panels installed. Homeowners without solar panels will be competing in a real estate market where solar is both valuable and easily accessible. Solar homes are often worth up to 4% more on average and sell much faster. Read about How Solar Can Help You Sell Your Home. Solar power is seen as an asset, and buyers are looking for homes with energy-efficiency upgrades to invest in future savings.
California is one of the best places to have solar power installed. If you think solar is the right move for you, do your research and call our team. We offer free, no-obligation quotes for solar installation.
See what solar will cost you, and get started by scheduling a sales consultation today!

Get Solar In
Your Inbox
Subscribe to our company newsletter to stay up to date on the latest Solar Negotiators news!