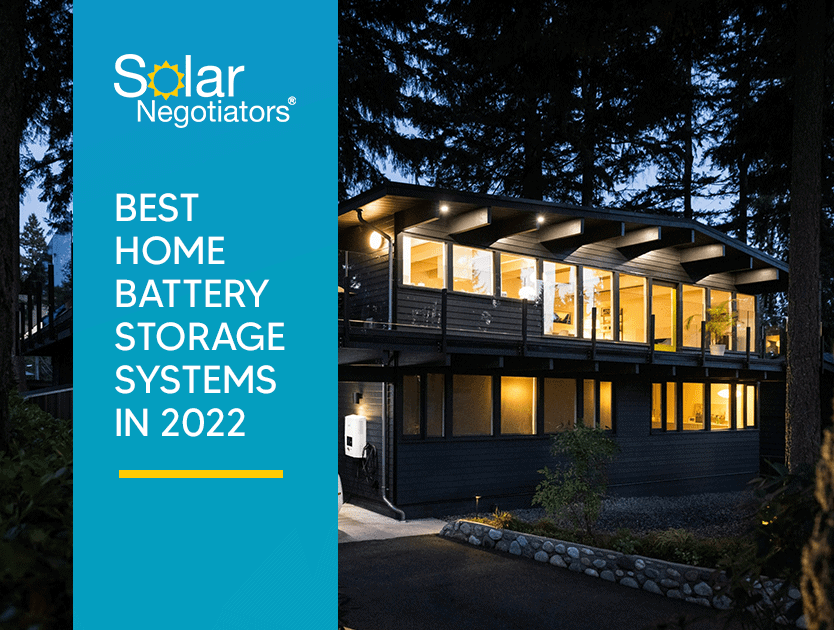 Best Home Battery Storage Systems in 2022
Let's start off with answering the question, "what is home battery storage backup?". The solar industry has grown a lot over the years and shows no sign of stopping. Just as solar installation has seen massive growth, we are now seeing the rise of home battery storage systems. More people nowadays want to live independently from the grid, which is the biggest reason customers look to install battery storage systems. Having to depend on the grid for power can be hard, because it isn't always reliable. Particularly, in recent years with wildfire season causing power outages across the state. Solar panels can help decrease your energy bill, but they don't store excess energy unless you add battery backup. Adding home battery storage can go a long way to save you money and energy security.
The Benefits of Home Battery Storage
There are several benefits to solar + battery storage in today's market. Solar plus storage is the perfect combination with renewable energy and battery storage to backup the energy coming in from the panels. With this perfect combination you are able to live more independently which offers economic and environmental benefits.
With battery storage, you can make the most of your energy in these 4 ways:
Reliability During Power Outages
Avoid Utility Consumption During Peak Rate Hours
Added Energy Savings
Reduced Carbon Footprint
Solar battery backup helps you save more money by allowing you to draw from stored power during times where you are not able to produce as much solar power i.e. rainy days or at night. Installing a home battery can also help make your home more reliable.If you live in an area that occasionally becomes unstable, you can rely on your battery to power your home even if the grid is down. Another benefit of a battery is that it can reduce your carbon footprint. This is great for people that want to go green and reduce pollution. Lastly, and more importantly— in addition to solar power, energy storage systems will help you save on electricity costs. To help you understand how batteries work for you look at the image below: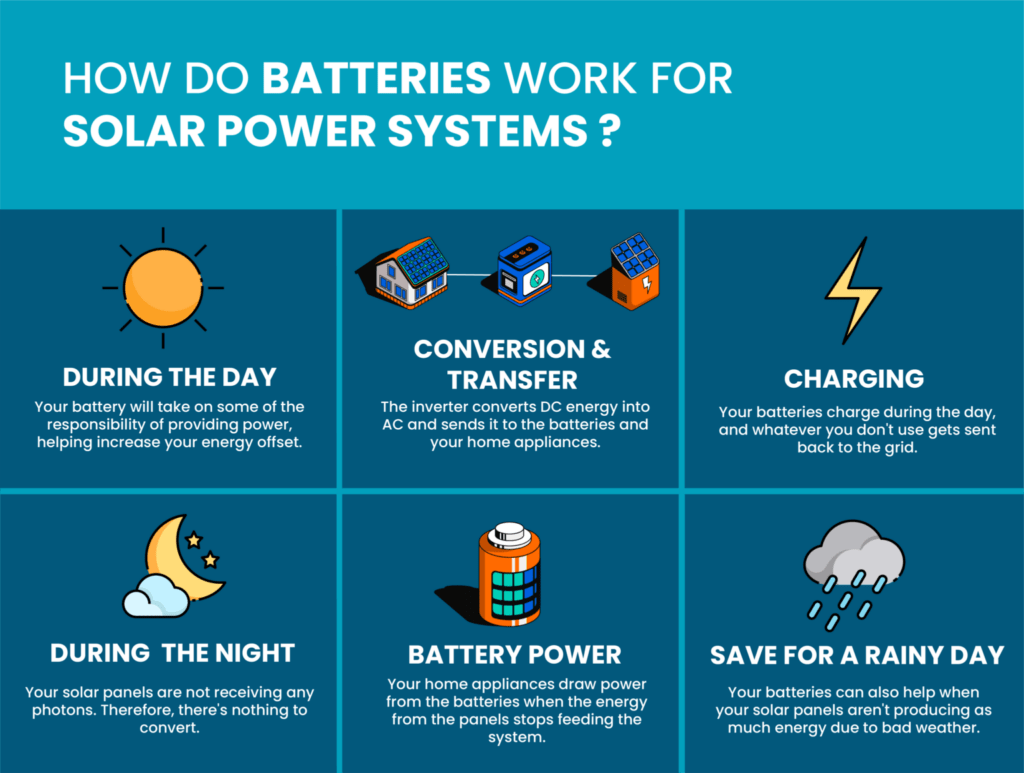 How Much Battery Storage Do I Need for My Home?
Is it easy to determine how many batteries you need for your home? It all depends on the situation. Knowing how many batteries you need for your home depends on which of the benefits of battery backup interest you the most. Customers want a home battery to save money, be resilient, or be self-sufficient. Taking these into consideration will determine how many batteries you need for your home.
3 significant factors that can affect how many batteries you should get include:
1. The Electricity Loads You Need Powered – Electricity load is anything that consumes electricity in your home. Knowing how much electricity you need to provide your appliances is very important. This will let you know what needs to be powered and if you'll need more or less storage capacity. Because the amount of battery storage you need for your home is based on your energy usage.
2. The Solar System's Size/Production Ability – Next, you need to charge up your battery with electricity. You either pull it from the grid or charge it with your solar system. So it's essential to know how much solar energy your panels produce and how much you'll need to charge your battery system during the day. In case you need more storage capacity than your panels can fill.
3. Are you More Concerned with Cost Savings or Convenience? – And lastly, just knowing what you want to get out of your battery system is vital in deciding how many batteries you need.
What Are the Best Home Battery Storage Options?
Now, let's take a look at the best home battery storage systems. Choosing the correct battery for your home is essential. There are a number of factors that come into play when choosing the best battery storage. From the size of your home to the characteristics of your solar installation.
Powerwall, Tesla
As I'm sure you know the brand Tesla, we have the Powerwall from Tesla. It provides customers with an energy capacity of 13.5kWh and has a power rating of 7.6kWh. The Powerwall has a ten-year guarantee and can be monitored with its software. After installing the system learns and adapts to your energy over time and receives updates to add new features and enhance existing ones. But you can only buy this solar battery if you have Tesla's solar panels.
Pros:
10-year warranty
Stack up to 10 together
Dedicated app for power management
Cons:
Very expensive
Only available for Tesla's solar panels
Panasonic EverVolt
The Panasonic EverVolt is a standard model that is a DC-coupled 11.4kWh battery storage system. EverVolt is a scalable storage system with both AC and DC-coupled configurations and provides enough backup energy for your home if an outage happens. Essentially when paired with solar panels.
Pros:
10-year warranty
Stacks up to 3 units
Modular design for power scaling
Compatible with different inverters, including Enphase and SolarEdge
Cons:
Not as adaptable as other systems
Not all utility companies allow you to sell unused energy
AC Battery is slightly less efficient than DC-coupled batteries
Generac PWRcell
As you know, the Generac PWRcell battery is designed to provide backup power in the event of a grid outage and to save homeowners money by helping them avoid costly peak energy with the time of use rates. Overall, this product has the most storage power of any residential battery currently available on the market. Great for a backup battery and helping you avoid high peak energy costs. The PWRcell is an excellent choice to meet your needs.
Pros:
10-year warranty
Works with most solar panels
Modular design to suit different home sizes
Cons:
Very expensive
The price doesn't include solar panels/installation
Enphase
Enphase, which is one of the largest companies for solar inverters in the world, has a solar battery to go with their famous inverter. It's also good to know that Enphase batteries can be connected to fossil fuel backup generators from popular companies like Generac and Kohler. That is what you can call an excellent off-the-grid battery.
Pros:
Perfect for most homes
Automatic remote updates
Great warranty that promises 70% of capacity after ten years or 4000 cycles
Cons:
No expandable design
Extended warranty cost extra
Low peak output, with a continuous output of just 3.84 kW
How Much Does a Home Battery Backup Cost?
Solar battery pricing varies depending on battery model and brand. It's common for an average-sized home battery backup system to cost between $500 and $20,000. How many batteries do you need to power your home and the installation cost.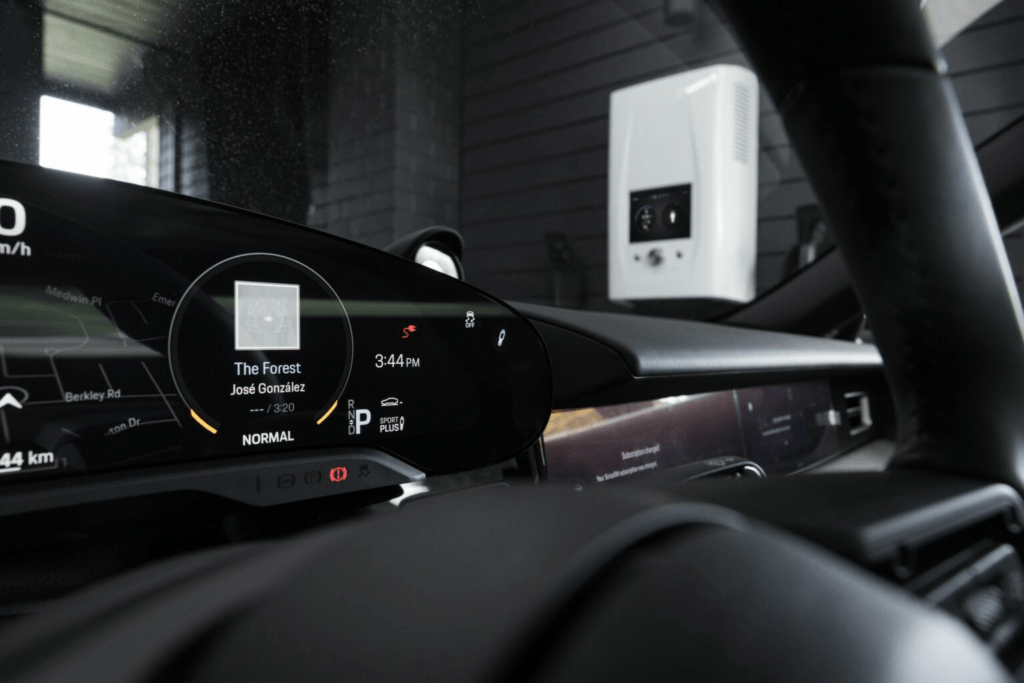 Can I Have a Home Battery Storage Without Solar?
Yes, you can have a home battery storage system without solar panels. However, not many homeowners know that you can have batteries that will be charged from the power supplied by the grid to store in case of a power outage. Even without solar panels, homeowners can save money with just a battery because energy is time-dependent. Using the battery when utility companies charge a premium can save you money and help you reduce energy costs.
How Long Do Home Battery Banks Last?
Most solar batteries last between 5 to 15 years. While the battery life is long, a replacement will be needed, especially if not you're not providing care to your battery. It's essential to know, like solar panels, that the quality of the battery and how well it is maintained plays a part in it. Ensuring you provide proper system maintenance will ensure maximum life expectancy.
Get Your Home Battery Storage System With Solar Negotiators
Solar Negotiators is here to help meet your energy needs. If you haven't gone solar, we can help you look into getting solar panels to power your home! If you have gone solar but don't have a way to store your excess clean energy, we can help you know how much you'll save on a solar battery! No matter what your solar-related needs are, Solar Negotiators can help you. Make a difference today and get a quote on a new battery.

Get Solar In
Your Inbox
Subscribe to our company newsletter to stay up to date on the latest Solar Negotiators news!