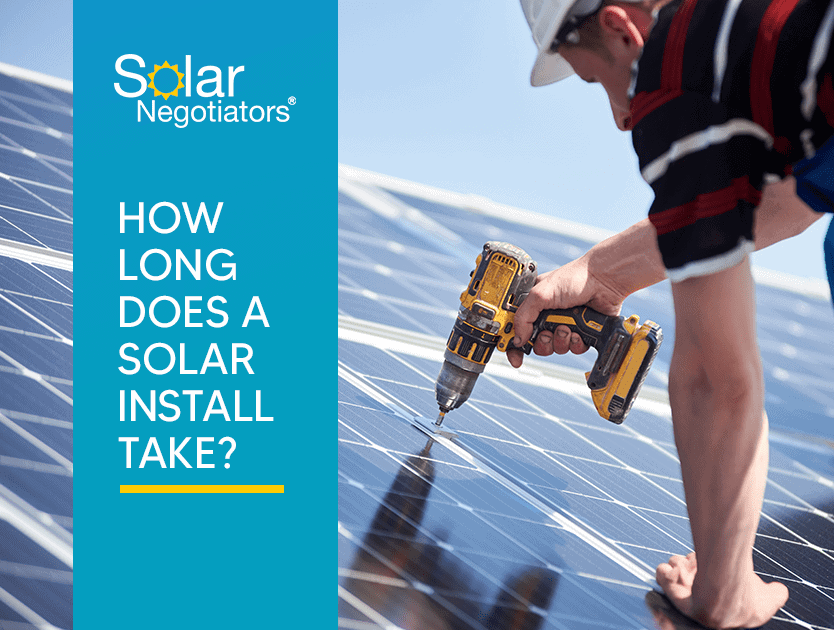 How Long Does Solar Installation Take?
So you're thinking about going solar. You're making a responsible decision and a wise investment in your future savings. But you may find yourself asking, "How long does solar installation take?" Well, Solar Negotiators is breaking down the solar project timeline week by week to give you a little insight into how long it takes to get a solar system installed on your home.
Week 1: Comparing Quotes & Selecting the Right Company
Although this is often the shortest step in the process, comparing solar quotes is also the most important. Choosing the right company can make all the difference in cost, quality, system size, and much more. You'll want to meet with multiple companies to ensure you're getting the most value. Depending on where you're at in the research process, your sales consultant may spend 30 to 60 minutes going over your options. To size a solar system correctly, a solar energy consultant must understand your lifestyle and energy usage habits.
If you're calling for a quick price comparison, that may be a much shorter call (10-20 minutes). At Solar Negotiators, our consultants wont have you provide the competitor's business name, only what they've offered you. We can then provide a quick "apples to apples" quote based on our product and financing options. At the end of the process, you should fully understand what your system will produce, why it will benefit you, and what it will cost.
Your solar project must be funded before it reaches the permitting stage, which is about two weeks after you've signed your contract. The salesperson's job is to break down the costs with you. They will discuss all your solar financing options with you during the initial consultation. Solar loans are a great solution if you don't have the cash to purchase your system outright.
Most solar loans are $0 down, with no upfront costs, and provide immediate savings. Owning your system means you reduce your monthly energy cost and earn a much higher return on your investment down the road. Solar loans are similar to any other home improvement or auto loan. They include a principal amount, annual interest rate, monthly payment requirements, and a payback period. Once funding for your solar is approved, the project manager can move forward and apply for your project permit.
[Download our free Solar Customer Journey Map] for a weekly breakdown of what happens after you sign a solar contract.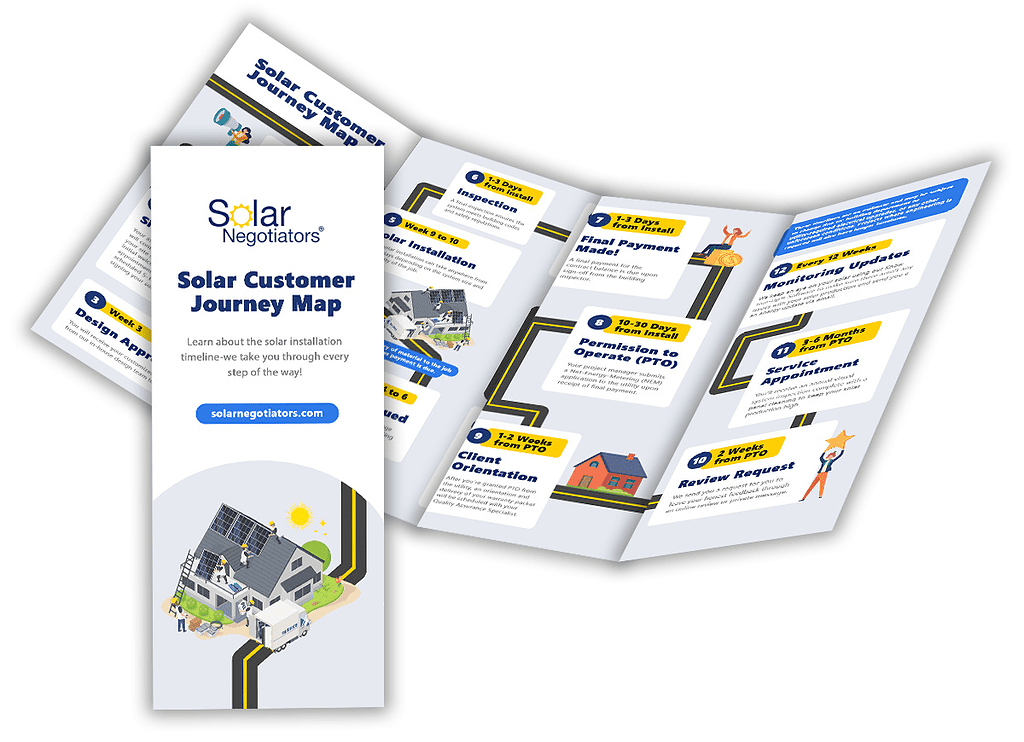 Week 3: Site Walk
The site walk or "evaluation" will be scheduled soon after your contract is signed. It is an essential part of the planning stage because it allows you to meet your installing contractor face to face while they review the proposed layout for your system. The technician will also survey your property to ensure there are no issues with shading or electrical limitations, inspect the quality of the roof or terrain (for ground mounts) and answer any questions you may have about the solar installation process.
The surveyor will gather customer information such as past energy usage, site measurements, and detailed requirements for the solar installation. These details are crucial to help suit the power requirements for each installation. This is a great time to openly discuss your goals for the project directly with the contractor. Any changes that need to be made to the initial layout will be accommodated before the plans are sent to the building department for approval.
Weeks 4-6: Submitting Plans & Applying for Permit
Before your project manager can schedule your install date, he or she will need to apply for a permit with the local building department. This gives the contractor permission from the city to start your solar installation. Permitting can often be a long and complicated process because of the need to meet all local safety and zoning requirements. It is wise for your solar provider to begin the process early in the project.
The area where you reside can play a huge role in how long the application process will take and the necessary requirements. Depending on the jurisdiction (which part of the state you live in), this procedure can take anywhere from 2 to 8 weeks. Your project manager will be responsible for working with the contractor to streamline the process, handle all the necessary paperwork, and keep you updated along the way.
Week 9 to 10: Solar Installation
So the big day has finally arrived. The proper expectations have been set by your project manager as far as what is required of you, how long it may take, and when the crew will arrive. Installing the system is usually the shortest part of the entire process. It typically only takes 1 to 5 days to complete, but certain complications with the system layout may lengthen the process.
Once the install crew arrives at your home, they will start by inspecting the arrays within the project area of your roof to ensure shingles are secure for installation. Next, they will need to deal with all electrical wiring, connecting your solar system to the main electrical panel. Solar panel racking is then installed by securing the structure and mounting your panels to your home's roof. These structures support your panels and the angle they are placed at, ensuring you get maximum sun exposure. Your solar installation is then completed by connecting your solar inverter to the system itself. Allowing the DC energy to be converted to usable AC energy that is fed to the grid.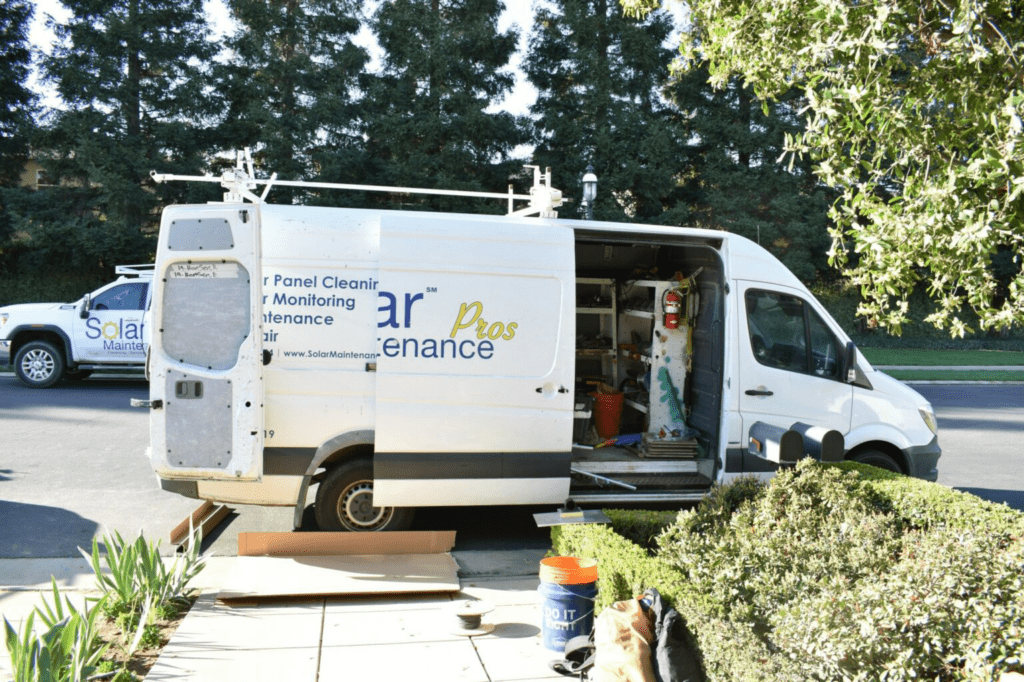 1-3 Days After Install: City Inspection
Before the interconnection process can start, a final inspection of your newly installed system must be performed. Although the system inspection itself will be completed within a couple of hours, scheduling it can take up to three weeks. A solar contracting company crew member will guide a representative from your city's planning & zoning commission and utility company through a series of checkpoints. This is to ensure everything was installed correctly and to code with the building regulations that were proposed in the initial plans. Once you pass inspection and get the "green light," so to speak, you can turn your system on. Although your system is installed, PG&E does not recognize the system until they approve your NEM application.
10-30 Days After Install: System Interconnection
Like most solar customers, your system is probably not "off-grid," meaning you will need to undergo the interconnection process. Once your system is grid-tied, any excess power your solar produces will be fed back to the grid. Your utility provider must give formal approval to register your system's production. Like the city's physical inspection of the system, the utility provider performs its own verification process. They need to ensure all technical and administrative requirements are met before your application is approved and you start racking up credits for your solar power.
The interconnection process happens in two parts: filing the required paperwork and the installation of a bi-directional meter on your property. The sheer volume of solar projects in California can take anywhere from 10 to 30 days. Like some of the other stages in your project, the solar company has no control over the timeline. Customers often get frustrated at this time because their system are installed, and the city has approved them. But they can't start producing power because their system is technically working. Patience is key, as you will likely begin to see savings add up as soon as you are connected.
So there you have it, there is much more to "going solar" than one might expect. That is why it is so important to choose the right company to facilitate it and guide you through each step. Most customers' frustration with the timeline usually lies with permitting and interconnection because delays are out of the solar provider's hands. All things considered, 2 to 3 months isn't really very long when you look at the big picture. You will be producing solar power for more than 25 years and, in that time, will be accumulating tens of thousands of dollars in savings.
Learn More About Installing Solar with Solar Negotiators
Now you understand the timeline when going solar with Solar Negotiators. The sooner you call our team for a free solar consultation, the quicker you can start saving with solar energy. We make it our mission to set our clients for long-term success with their solar purchase.
Considering solar for your home in California? Call 559-447-1557 or contact us today to get a free quote!

Get Solar In
Your Inbox
Subscribe to our company newsletter to stay up to date on the latest Solar Negotiators news!