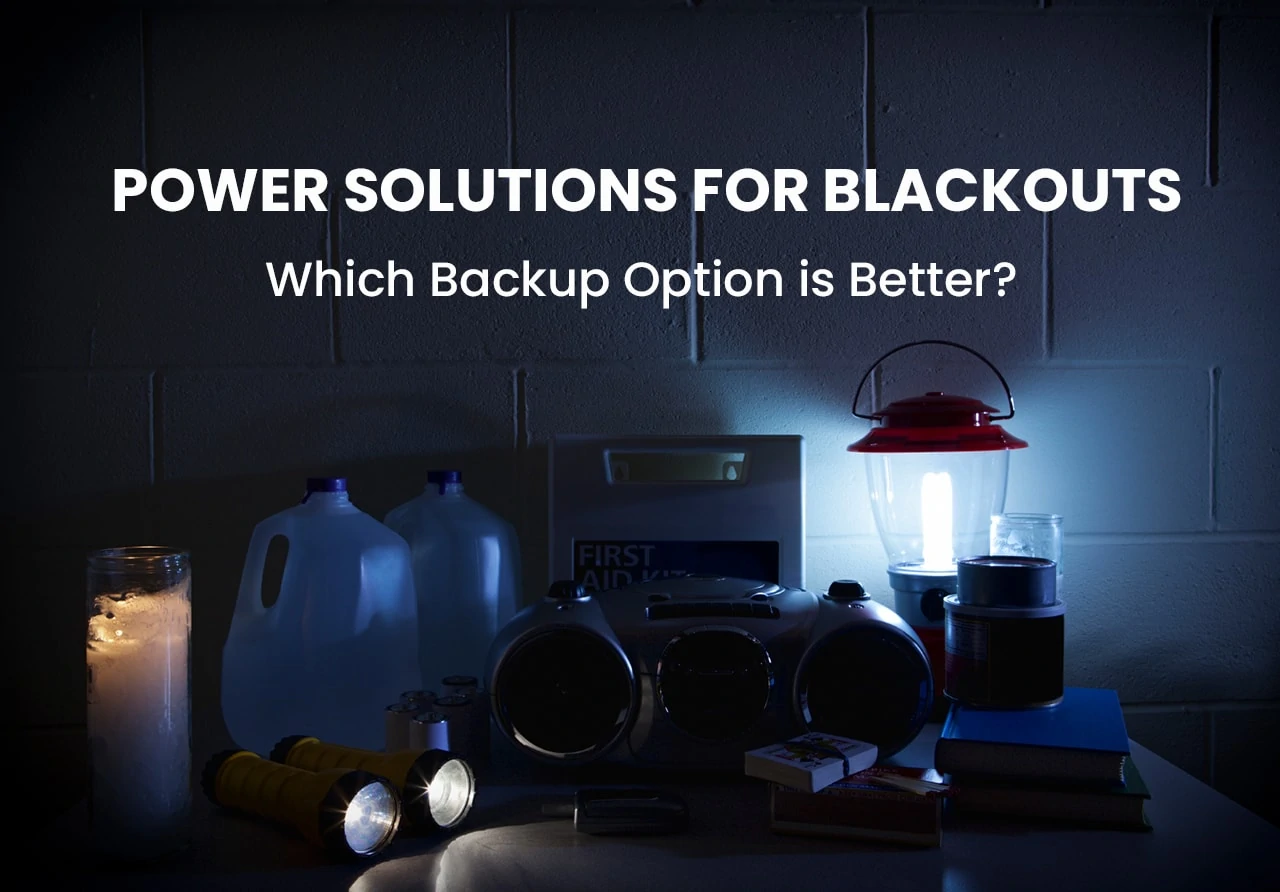 Power Solutions for Blackouts
You're at home, sitting at the dinner table with your family on a chilly evening…suddenly, the lights go out. You go outside and realize the entire neighborhood is without power. It's been hours and still no power. What do you do?
Recent severe and unpredictable forces of nature and other incidents have magnified homeowners' need for backup power solutions to prepare for an outage. Recently published data from the U.S. Energy Information Administration (EIA) shows over 540,000 outages/disturbances for the month of September 2019 alone, with over 25% of that number accounting for households in CA. Properly preparing for an outage is easily the best long-term safety and financial decision a homeowner can make.
Benefits of Backup Power
Though the upfront costs of backup power are high, costs are a one-time equipment and installation fee in most cases. It is key that consumers know these products will serve as a convenience rather than an investment to future savings. Particularly with batteries, the product/installation costs will likely never be paid off due to energy-related savings. The main goal when purchasing these products is to protect critical loads and minimize the impact to day-to-day functions in the event of a power outage.
What Are My Options?
Currently, the two options most common for residential solar owners are generators and batteries. Both have advantages and disadvantages which depend on personal/home needs and preferences. Many homeowners find themselves unsure of which one to choose.
A home generator is a stand-alone unit placed outside of the home. Most can be mobile and relocated. It is powered by a natural gas line and connected to the grid. A home battery is a storage unit that is rechargeable. It can be charged through the grid or with solar power or wind. Both automatically turn on within seconds if a power outage occurs. Currently, Solar Negotiators recommends that homeowners opt for a generator. In addition to the affordability factor, batteries are limited in providing users with enough financial benefit to support the investment.
Check out our CEO's response to a solar customer's question about battery storage Are Battery Backup Systems Cost-Effective Yet?.
Comparing Generators and Batteries
To organize and expedite your decision-making process, here are key factors to consider when exploring backup sources of energy:
Reliability: Power output and storage capacity for batteries is significantly lower. This means, to power an entire home for a long period of time needs multiple batteries, and in most power outage cases, an entire battery bank. Generators are able to link to your home directly and run continuously with less power limitations.
Budget: Most backup batteries are higher in price than generators upfront, due to the cost of installation (electrical upgrades, taxes, permit fees, or connection charges and can range anywhere from $5,000-$8,000.00). While generators present a few long-term costs associated with maintenance.
Physical/Environmental: Some homeowners prefer batteries due to the noise that comes with a generator. Though minimal, the inconvenience of noise during an outage or maintenance tests is sometimes a deciding factor. Batteries reduce your carbon footprint since it does not release carbon dioxide or other pollutants if environmental impact is a concern.
In a nutshell, if you need reliable power for a long period of time and are on a budget: opt for a generator. It is the most cost-effective option and is easier to implement. If budget is not a concern and you are seeking to protect critical loads like your refrigerator, laundry, dishwasher, etc. in the event of a power outage.


Get Solar In
Your Inbox
Subscribe to our company newsletter to stay up to date on the latest Solar Negotiators news!