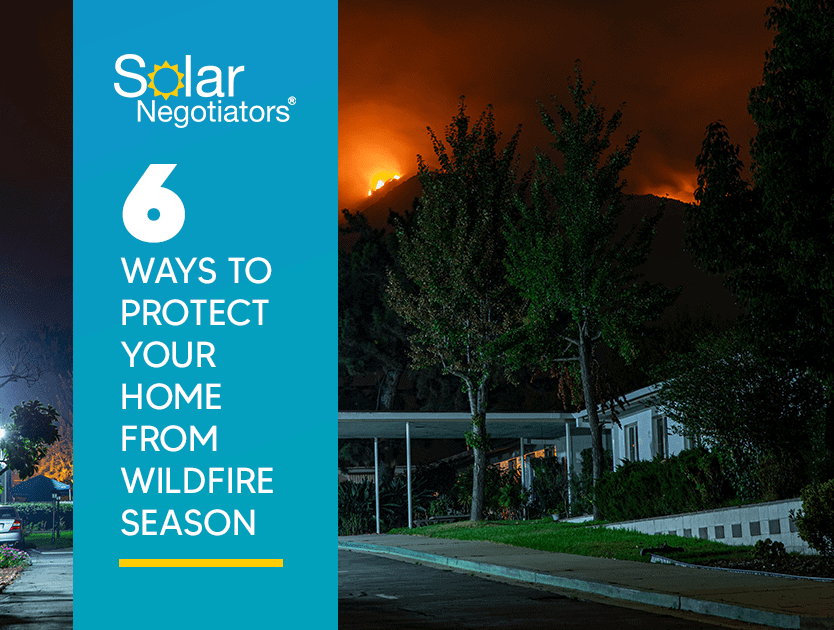 6 Ways to Protect Your Home from Wildfire Season
More than ever before, Californians are making sure to fireproof their homes and surrounding properties. With record-breaking temperatures and unprecedented fire damage being reported each year, it seems like there's never been a more critical time to make sure your property is Fire Safe. Fire Safe is a term coming from Fire Safe Councils that describes how resistant your home is against the coming fire season. To help make sure your home is well-prepared, Solar Negotiators has partnered with qualified licensed subcontractors to help you finance your improvements. Providing you with 6 ways to protect your home from wildfire season. You can make your home fire-safe and energy-efficient all under one contract, at a rate you can afford.
Opt for Dual-Pane Windows
Standard single pane windows allow heat (energy) to be transmitted easily from the outside of the home to the inside. Unlike single pane windows, dual pane windows have a small space between the pieces of glass, creating an air pocket made to better insulate the home. This air pocket prevents the temperature of the air outside the home from greatly affecting the temperature of the air inside the home. Whether you're keeping the heat out, or keeping the cold air in, having two panes of tempered glass greatly increases your home's ability to retain a stable temperature, and can more than double the amount of time it takes latent heat to shatter your windows in the event of a fire.
Dual pane windows also prevent cracks from developing and propagating inward in the event of a fire. This cracking occurs in a single pane window when the center of the glass heats to an extreme temperature far beyond the temperature of the edges of the outside of the glass, which are covered from exposure to the heat by its frame. The difference of the temperature distribution across the single pane is what causes it to shatter, giving the flames easy access to the inside of your home. Dual Pane windows make this far less likely to happen.
Go Green with Insulation
Like windows, insulation plays a double role when considering the efficiency of your home's energy transmission and fire protection. Cellulose insulation, provided by companies such as "Green Fiber," can reduce the rate at which a fire burns your home's insulation by as much as 50-60%.
There are also other more eco-friendly products available, like the "hempcrete" blocks being pioneered at DTE Materials. These blocks are manufactured in a carbon-negative environment, and have an A standard NFPA and IBA class rating, meaning that, in the event of a fire, this insulation will remain intact far after other materials have combusted. In today's market, installing hempcrete insulation is one of the easiest ways to increase your home's ability to prevent unwanted transfer of energy, inside or out. This is why we recommend installing the right insulation, siding, and ventilation systems to maximize your home's protection from wildfires.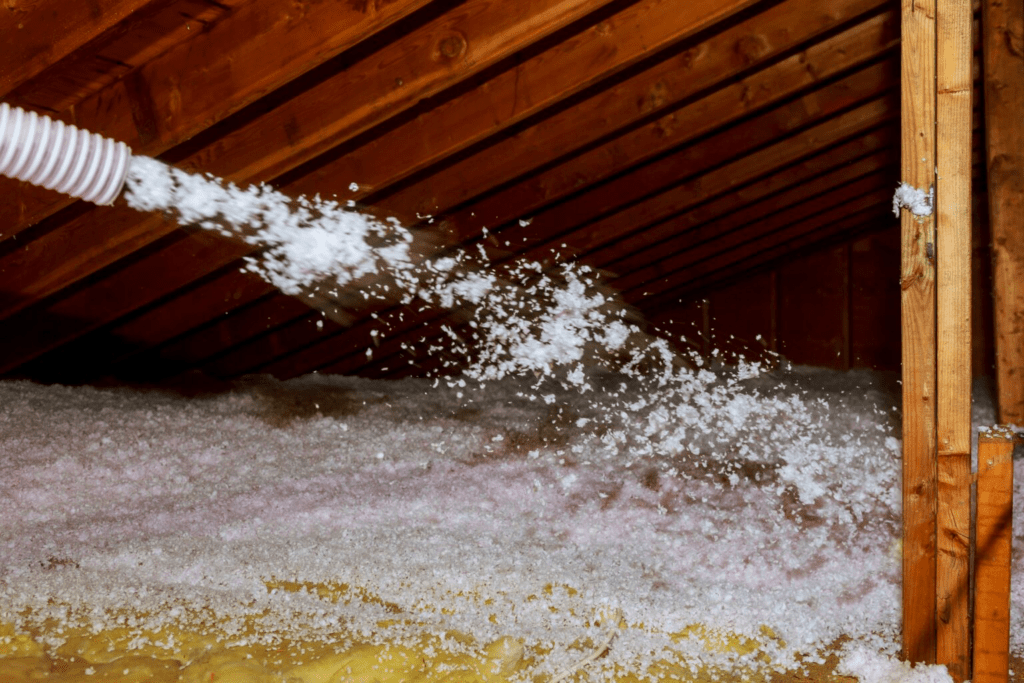 Choose A Durable Siding
Coupled with the right insulation (like the hempcrete mentioned above), the siding of your home only plays a marginal role in preventing unwanted energy transmission. However, it does play an essential role when considering making your home Fire Safe.
Best Siding Options a Fire Safe Home:
Cement board
Aluminum
Stucco
A specific product is James Hardie Siding, or "Hardie Board" and "Hardie Plank" as it is more commonly known, is a premium version and pioneering manufacturer of cement board siding. Cement siding will not ignite when exposed to a direct flame. In addition, it does not contribute to the fire's fuel source, but the heat will eventually transfer through the siding, which is why you need good insulation.
Another advantage of cement board siding, aside from being relatively affordable, is that it can be used in many variations to achieve a variety of aesthetics.
If cement siding isn't the right feel for your home, you may want to consider stucco. Stucco siding also holds a very high fire safety rating, while affording your home an inexpensive and aesthetically pleasing exterior.
Make Sure Your Roof is Fireproof
Your roof is the most vulnerable aspect of your home when it comes to the danger of residential fire and wildfires. Drifting embers can travel several miles from an active burn, and will often land on the exposed surface of your roof. If the large elevated surface area of your roof is made of combustible materials, you may run the risk of the roof catching fire increases almost exponentially in the event of a fire. Homes with wood or shingle roofs are at a high risk of catching fire for this reason. It's recommended that you re-roof your home with a composite, metal, clay, or tile roofing substitute. Asphalt, slate, concrete, clay, and metal are all also substitutable roofing materials that will help to greatly reduce your home's risk of catching fire.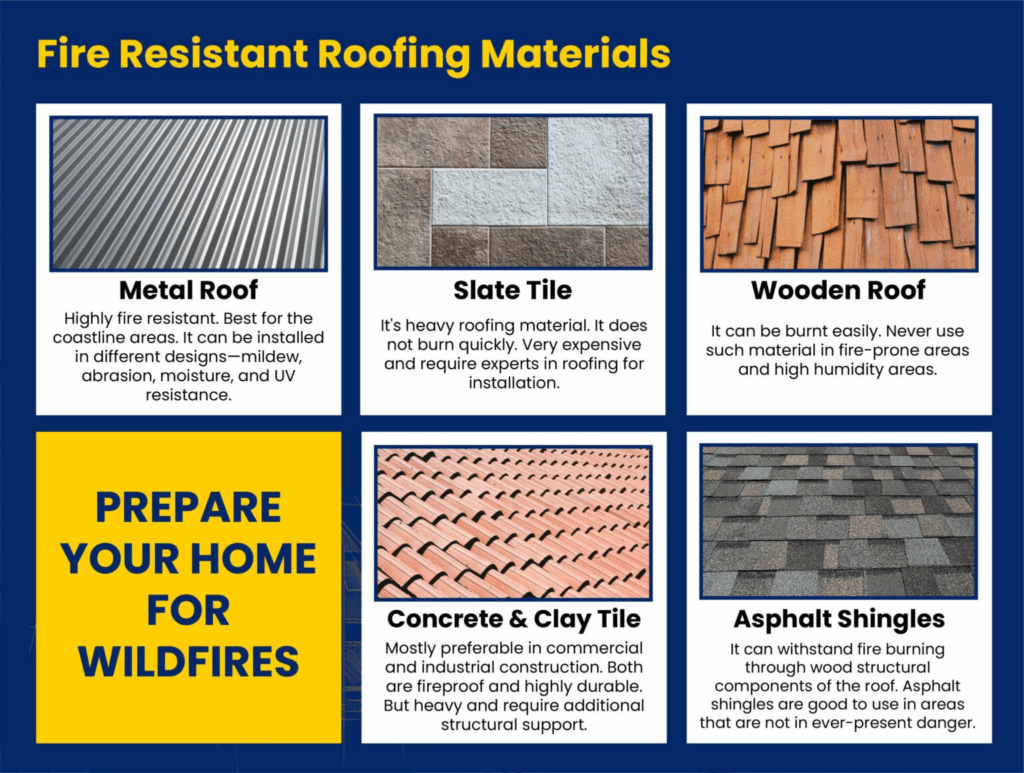 Create Ventilation Sources
Though it may be less obvious than replacing the siding and roofing, your home's ventilation system is crucial for fire protection safety.. Allowing for ventilation can prevent residential and rural wildfires from spreading beyond the surrounding countryside into your home. Homeowners often forget the need to turn off their air conditioning when an evacuation order occurs. This results in an open system pulling air, ash, and drifting embers into the home. These airborne embers cause up to 90% of residential damage resulting from a wildfire. The embers are pulled in through the ventilation system where they catch fire on built-up dust, or slip through vents into the home and can catch fire when coming into contact with your home's furniture, curtains, or other flammable decorations.
One of the best substitutes for the standard home ventilation system is Vulcan Vents. This product has sensors that allow the ventilation system to automatically close off when extreme heat or embers are sensed trying to pass through the exterior vents into the interior of your home.
Clean Up Landscaping
Landscaping often implies a refined hardscaped yard, water features, and perhaps even a pool. If fire safety is top of mind for you, your home's aesthetic needs to take a back seat. Consider clearing your home's immediate vicinity of brush, weeds, or pine needles. Overgrown areas are a breeding ground for wildfires, especially in hot, windy climates. According to California state law, your home must have a minimum of 100' of defensible space surrounding it in order to pass the minimum inspection requirements and be insured if you are within 5 miles of a high-risk burn zone.
Solar Negotiators has partnered with qualified contractors to help provide you with all of the services mentioned in the article above. So, if you're hoping to have your fire insurance premiums lowered and feel more secure from the dangers of the fire season—give our team a call at (559)-447-1557 and we will schedule you for a no-cost consultation.

Get Solar In
Your Inbox
Subscribe to our company newsletter to stay up to date on the latest Solar Negotiators news!