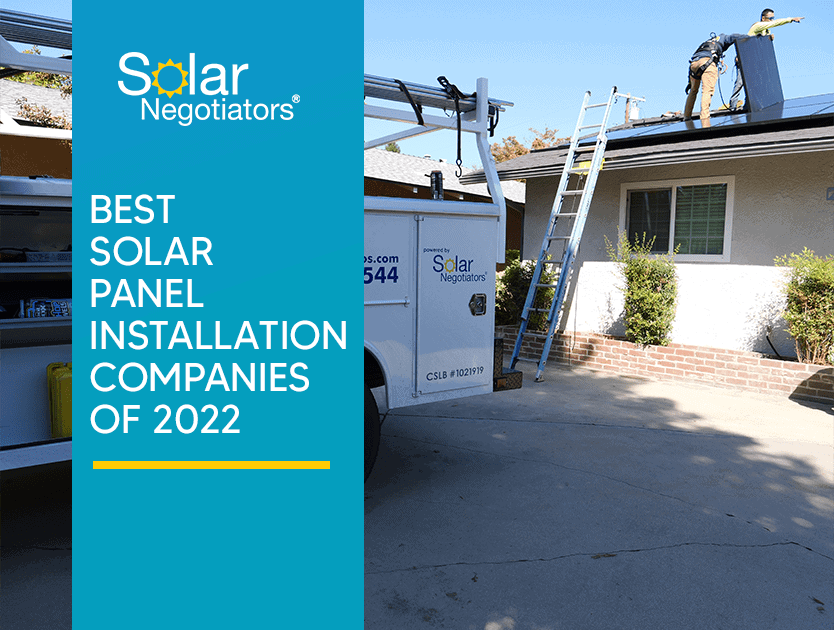 Best Solar Panel Installation Companies of 2022
Solar energy has become more accessible in recent years and it's a great cost-effective solution for homeowners. While utility costs continue to rise in several states, using solar to help pay for electricity is one solution homeowners are turning to. Solar panel installation is also a must for reducing your carbon footprint and advocating for renewable energy. We have compiled a list of the best solar panel installation companies to help you start your solar journey.
7 Best Solar Panel Installation Companies
Solar Negotiators
Solar Negotiators gives customers savings and solar success by offering them lifetime maintenance and monitoring services on their solar panel system.
Available in California
Lifetime warranty
---
Sunpower
Sunpower was founded in 1985 which makes them solar installation pros. They also provide high-quality solar panels so you can purchase your panels and have them installed all with the same company.
Available in 50 states
25-year warranty
---
Blue Raven Solar
Blue Raven Solar has amazing customer reviews, which makes them a popular choice for solar panel installation. Additionally, they offer 0% financing for the first 18 months after installation.
Available in 17 states. (States included are Colorado, Florida, Georgia, Idaho, Illinois, Indiana, Kansas, Kentucky, Mississippi, Nevada, North Carolina, Ohio, Oregon, South Carolina, Texas, Utah, and Virginia.)
25-year warranty
---
Zenernet
Zenernet, offers customers a great installation experience. The process is communicated effectively so that customers are always aware of each step. Zenernet also offers a workmanship warranty that covers any damage or defects during installation.
Available in 11 states. (States included are Arizona, California, Colorado, Connecticut, Florida, Illinois, Massachusetts, Missouri, New Jersey, Rhode Island, and Texas.)
25-year warranty
---
Momentum Solar
Momentum offers customers a 25-year workmanship warranty combined with an equipment warranty. Although Momentum offers solar installation in just a few states they have carefully selected these states based on their well-established net-metering programs. Net-metering is when utility companies track your energy and meter the amounts that your solar panels produce a surplus of solar energy.
Available in 10 states. (States included are California, Connecticut, Georgia, Florida, Massachusetts, Nevada, New Jersey, New York, Pennsylvania, and Texas.)
25-year warranty
---
Palmetto Solar
Palmetto offers customers monitoring and convenience with their Palmetto App. This app allows customers to track the performance of their solar system by day, week, or month. In addition to having active monitoring, Palmetto offers customers discounted services such as panel cleaning and solar battery service.
Available in 23 states plus Washington, D.C. (States included are Arizona, California, Colorado, Connecticut, Florida, Georgia, Illinois, Maryland, Massachusetts, Michigan, Minnesota, Nevada, New Jersey, New Mexico, North Carolina, New York, Ohio, Pennsylvania, Rhode Islan, South Carolina, Texas, Virginia, And Wisconsin)
25-year warranty
---
ADT Solar
ADT offers customers quality protection with a 4-in-1 solar warranty. Included is a labor warranty, energy production warranty, solar panel manufacturer warranty, and an enphase micro inverter warranty. All are included in the 25-year warranty coverage.
Available in 21 states. (States included are Arizona, Alaska, California, Florida, Georgia, Illinois, Iowa, Kansas, Louisiana, Michigan, Mississippi, Nebraska, Nevada, New Mexico, North Carolina, Ohio, Oklahoma, South Carolina, Tennessee, Texas, and Virginia.)
25-year warranty
Choosing the best solar panel installation company for your home solar system depends on your location and your energy needs. Although our list is a recommendation for solar panel installation companies, some things to consider for your own home installation are what tax incentives are available in your state and what your personal budget and solar energy needs are.
How Does Solar Installation Work?
The solar installation process begins with a consultation with your solar panel installation company. During this initial consultation, you should ask questions and voice what needs you have for your solar panel system. Following your consultation, the solar company will then design your solar panel system based on your needs and on your home specifications. From there you will receive a cost estimate of your solar panel system.
Reasons to Use a Solar Panel Installation Company
Ensure the job is done correctly
Solar panel installation companies have in-depth training, experience, and are certified or licensed to install solar systems. Using a reputable company that specializes in residential solar means that your system will be installed correctly. Prior to installation, your installer will know what to assess on your roof to ensure that no solar panels are installed in places that will need later adjustment or correction. Installing solar panels correctly and in the best conditions will help your panels to last longer. A reputable solar installation company will know how to handle your solar panels and how to install them so that your warranty coverage is not breached.
Another reason to hire a solar panel installation company is that you can enjoy the process rather than undertake the pain of installing panels on your own. This saves you time and money in the long run because you won't have to worry about obtaining permits and filing paperwork. The process of installing solar panels may seem easy but for someone with no experience, it could be a lengthy process. As mentioned before, accidentally damaging your solar panels or system could void your warranty. A professional solar panel installer will know how to handle your panels and most companies provide you with a workmanship warranty for installation.
Stay safe and hire a professional for your solar panel installation. Solar panels installed on your roof mean climbing up and working in hazardous conditions. The risk of falls or electrocution is fairly high when working with solar panels. A professional will have the right safety equipment and know what precautions to take to get the job done safely and correctly.
If you plan to sell your home in the future, installing your panels correctly will increase the value of your home. When your solar panels are installed with the required standards your home will meet any solar panel industry standards. This can provide valuable information for reselling your home. Customers will appreciate the value of having a solar panel system installed to professional standards.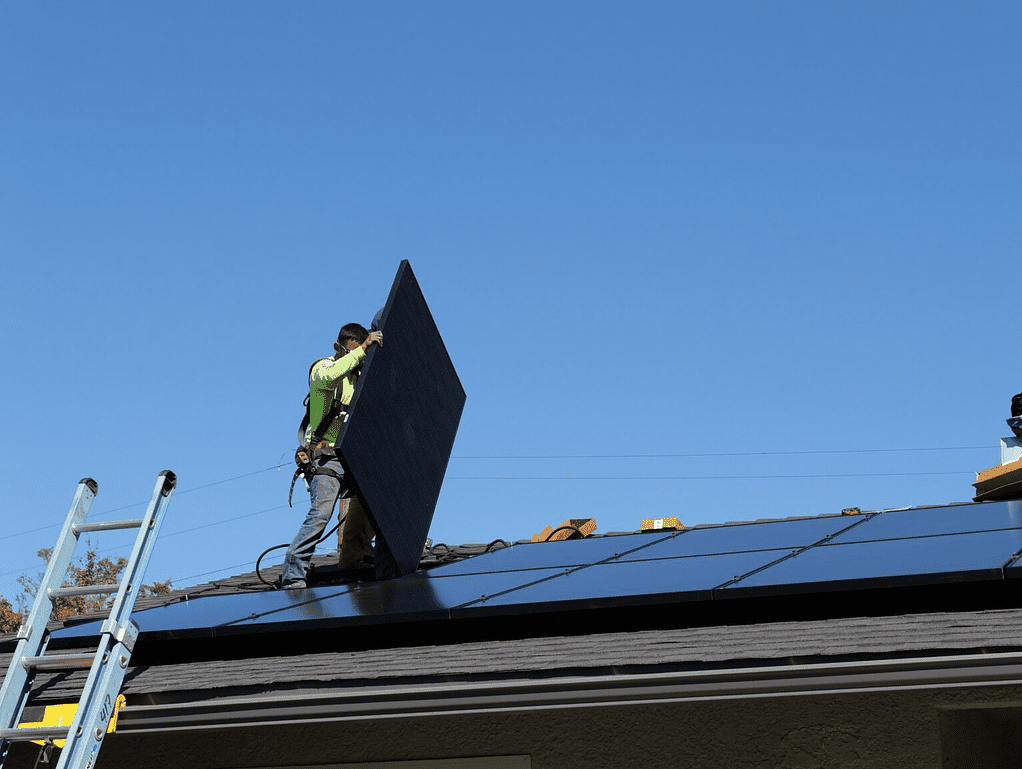 The Benefits of Installing Solar
The first benefit that most homeowners will learn about with solar panels is how they reduce the amount of electricity you will pay for. Electricity costs have continuously increased across the country, this is a trend that is predicted to continue. Since electricity is more expensive during peak times, adding a home solar system can help you avoid expensive rates and enjoy the benefits of solar energy use in power outages. While some alternatives like gas or diesel-powered generators can help with outages, using solar panels instead can save you money and provide hands-free continuous power.
Clean energy is another benefit of adding solar to your home. Solar energy does not release carbon dioxide into the atmosphere which makes it a smart clean energy choice. While many companies and states have started to place value on renewable energy it is important to see the benefit for future generations and the environment.
As a homeowner, one significant benefit is that opting for a solar panel system can raise the value of your home. On average, homeowners who add solar raise the value of their homes by 4.1%. This can be a great addition if you plan to resell your home in the future. When solar panels have been installed the value of your property increases, this results in a roughly 20% faster resell than other homes without solar panels.
Lastly, since solar panels are an investment for homeowners there are tax incentives to help alleviate those costs. A solar panel system's average cost can range from around $11,000 to $21,000. Those costs can be reduced with things like the federal solar tax credit, state tax credits, net metering, and local solar rebates. Although these offerings differ by location and other factors your solar panel company is a great resource to help you identify which ones apply to your solar panel purchase. The cost of residential solar systems has decreased over the years and making the switch has plenty of benefits. With most solar panel companies offering 25-year warranties there are many reasons why solar is a preferred choice for homeowners.
Choosing Your Solar Panel Installation Company
When choosing your solar panel installation company there are a few factors to consider. The first is to check if the company is available in your area. From there you can check if an installation company has accreditation and what their rating is with the Better Business Bureau. You may feel overwhelmed with the amount of solar panel installation companies to choose from, but reviewing companies that are rated well online can help narrow down your search. Searching reviews to find which companies are certified and licensed for your solar installation needs is a great starting point.
After you've chosen a highly-rated business with happy customers, begin meeting with solar representatives through free consultations. During these consultations, you are able to ask questions and understand their process for working with solar customers. When you are able to talk with a solar professional about your solar needs, they will offer you recommendations on what solar panel option best fits your budget and project specifications. Finding a company that has the right solar panel equipment to meet your needs at the price that is right for you can be another deciding factor when choosing your solar panel installation company. Once you have finished your consultation, your solar consultant can offer you an estimate on your solar system costs and any options for financing or tax incentives available. Choosing your solar installation company depends on your unique needs and preferences, but the factors we covered here are a great starting point when looking.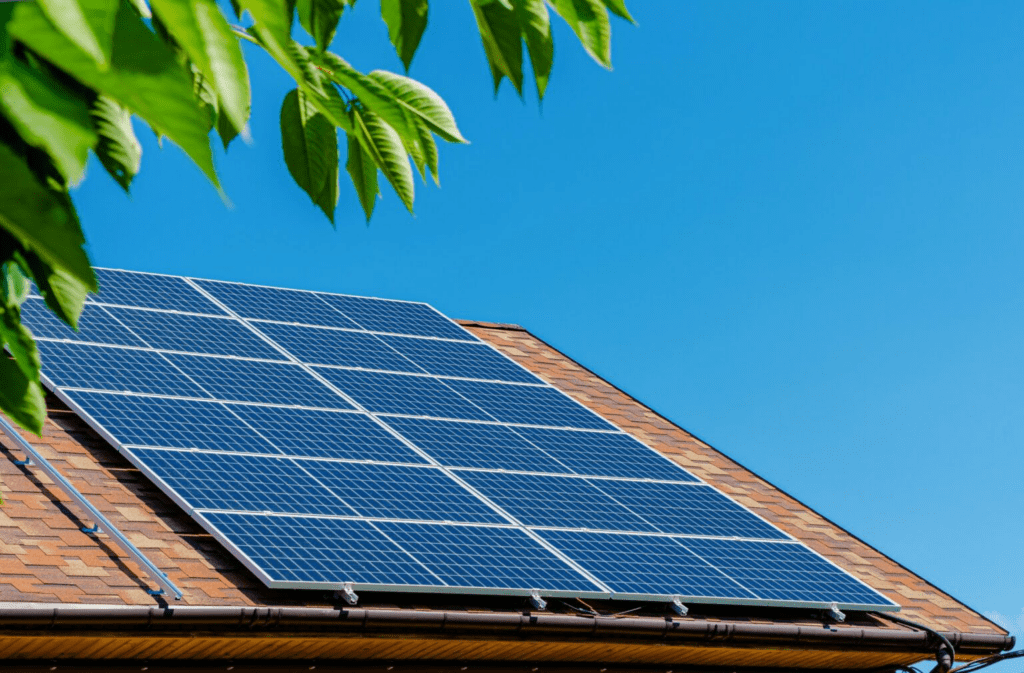 Frequently Asked Questions (FAQs)
Q: What is the estimated cost of installation for solar panels?
A: The cost of installation for solar panels varies depending on your location, the tax incentives available in your area, and the number of panels you are having installed. If you're wondering how much your solar panel installation might cost, please reach out and request a free quote.
Q: Will I still receive an electric bill if I have solar panels?
A: Yes, you will most likely still have an electric bill if you have solar panels. Solar panels will help to minimize the amount of power that you draw from electricity companies, but most companies still require a monthly fee.
Q: Do my solar panels produce power when the sun isn't shining?
A: Solar panels require solar radiation, or sunlight, to produce power. Your panels will not produce power during the night and will produce a reduced amount of power on days that are overcast.
Q: How many solar panels do I need?
A: The amount of solar panels that you need depends on the size of your home and how much electricity you typically use. The quantity of solar panels installed on a home can range from 14 panels all the way up to 30 panels. Request a free quote to get personalized information on the number of panels your home needs.
Q: How long do solar panels last?
A: Most solar panels last an average of 25 years, but they can last even longer with regular cleaning and maintenance.
Get Solar In
Your Inbox
Subscribe to our company newsletter to stay up to date on the latest Solar Negotiators news!