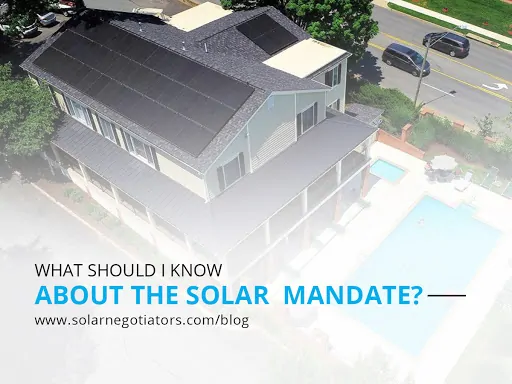 What Should I Know About the Solar Mandate?
Many have probably heard of California's solar mandate going into effect January of 2020, but few may actually know what this entails. Throughout this article we will provide you with the pros and cons of this new law.
First of all, what is California's solar mandate? Well, this mandate was passed by California's governor Gavin Newsom along with the California Energy Commission, requiring all new homes built from January 2020 on to have solar panels. "This adoption of these standards represents a quantum leap," Bob Raymer, senior engineer for the California Building Industry Association, said during the public comments before the vote. "You can bet every state will be watching to see what happens" (Penn, 2018).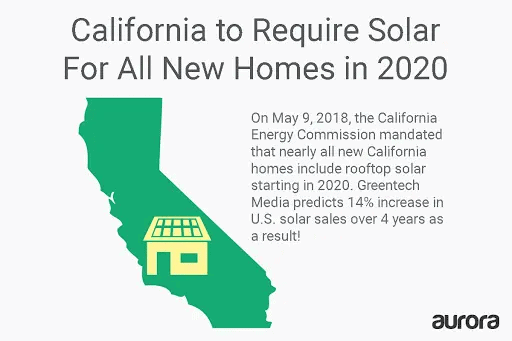 The hope is that by the year 2030, 50% of the state of California will be run on clean energy. Although Hawaii has mandated other energy efficiency measures in the past, California is the first and only state to require solar panels for all new homes.
Will My House Qualify for this Mandate?
Most new homes will qualify for this, however there are some exceptions to this rule. This mandate only applies to new homes and buildings that have a processed building permit on or after January 1, 2020. Another exception to this mandate includes too much shade on the roof or the size of the roof is not large enough to support solar panels. In this case, solar will not be installed.
Paying for Your Solar Under the Mandate
Typically homeowners are responsible for finding their own way of paying for their solar, whether that be out of pocket, financed or leased. Although this could be the case for homebuyers in 2020, it is not the only option. New homeowners will also have the option of rolling over the cost of the solar panels into the price of their new home.
The Benefits of Having Solar on your New Home
There are many benefits when it comes to solar. Not only are you helping the environment by using clean renewable energy, but you are also saving money on your electric bills. These systems are designed to achieve zero net electricity with a 100% offset of the buildings electricity production.
Along with savings on your electric bill, value will be added to your home. It is said that having solar will increase your home value by 3.74% (Parker, 2019). If you want to learn more about how solar can benefit you in the house selling process read our article on How Solar Can Help You Sell Your Home.
Long-term savings are also another reason to invest in renewable energy for your home. It is said that over 30 years these new home buyers will save $19,000 in energy savings (Parker, 2019) . When these savings amount or exceed the price of installing solar in the first place, that is called a solar payback. To learn how to calculate your potential solar payback period (how long it will take you to make back your investment) read our blog article Calculate Your Solar Payback. Your savings could be increased even more with battery storage. Using battery storage allows you to use the energy stored in the battery when tier rates are exceptionally high. Furthermore, many homeowners will benefit through this mandate, however there are some downsides to this movement.
The Negative Impact of the Solar Mandate
Many have expressed their concern about how this mandate will affect the housing market in California, considering that real estate here is so expensive. This will also affect the lower and middle class who are buying new homes with solar because typically they will not be able to financially keep up with the maintenance (Itzler, Choose Energy).
Many economists are also worried that this will decrease the value of solar. As more and more houses are by law required to have solar, the price of solar will decline. This can lead to many business' falling out because of the lower economic value of solar once this mandate is put into effect (Roberts, 2018).
The Goal of California Going Solar
The main goal of this mandate is to turn California into a net-zero energy usage state. This means that most of California would be run on clean, renewable energy. Ultimately the California Energy Commission would like to run solely on 50% clean energy by 2030, the hope is that this will be a positive step for the environment.
Sources Cited
https://www.nytimes.com/2018/05/09/business/energy-environment/california-solar-power.html
https://www.vox.com/energy-and-environment/2018/5/15/17351236/california-rooftop-solar-pv-panels-mandate-energy-experts
https://www.chooseenergy.com/news/article/california-solar-panel-mandate-good-idea/
Get Solar In
Your Inbox
Subscribe to our company newsletter to stay up to date on the latest Solar Negotiators news!