Solar Panel Calculator: How Many Panels Do I Need?
Tags: solar panel calculator, solar lease calculator, solar panel cost, solar price, panel cost, solar quote, PV system cost
 Are Solar Panels What I Need?
One of the most common questions most homeowners ask themselves is whether they should make the move to solar energy. For many the answer is yes, because it makes sense. Solar energy is the cleanest and most abundant renewable energy source available. A solar panel system can save your wallet when it comes to your electrical bill. However, there many factors to consider when making the decision to go green with solar energy. When having a professional look over your current annual electric bill they will evaluate your current sunlight exposure. They will also review determine if there are any incentives you can take advantage of, such as government offers for homeowners who install solar. If you want to start taking these steps, then you're currently in the right place to benefit from solar panels.
Calculate how many panels you need to effectively power your home! You will need your annual utility data to be analyzed by a sales consultant. Your system size will be designed to offset your annual utility consumption in kilowatts.
Pull Annual Energy Usage
A sales professional will need 12-months of utility usage to produce your solar quote. Solar billing is on an annual cycle since consumption fluctuates throughout the year. For example, you may spend a maximum of $500 in the peak of summer, because air conditioning use is much higher than in February.
If we built your system to account for a $500 average bill per month, your system would be too large and you would overspend on the cost of installation. On the other hand, if we looked at an "average" bill of medium usage in Feb-March, your solar production would come up short and you would receive a balance due on your True-Up bill.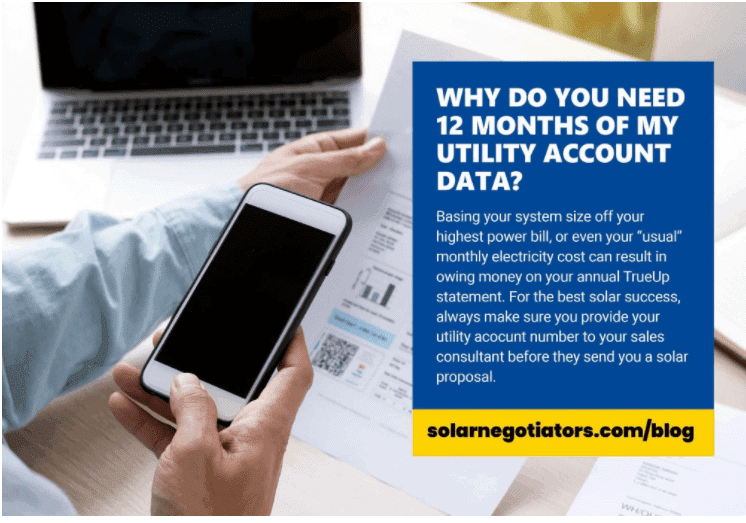 Plan for Increases in Energy Consumption
The purpose of your solar system is to generate enough electricity on an annual basis to cover your utility costs before going solar.
It is important to let your sales consultant know if you plan on using more power after you go solar: 
Adjusting your thermostat to a lower temperature
Adding a pool
Buying an electric vehicle
Increasing # of people living in the home
Home expansions
Purchasing large appliances
By telling your solar consultant about possible additions to your home requiring power you can avoid significantly increasing your energy usage, which can lead to an owed balance on what is called a solar True-Up bill. A True-Up is paid once per year, it summarizes your annual net energy costs or credits. It details both your solar production and energy consumption for the entire 12-month cycle.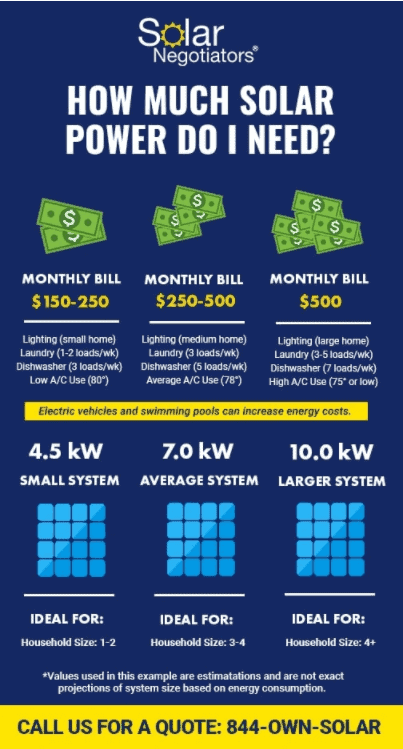 Account for Potential Installation Issues
Even though there are many factors that come into play when sizing your solar system, the process is fairly simple. You need enough energy production to power your home effectively.You should also know that, there are a few things that can affect the pricing of your solar quote outside labor and materials. Make sure that your home is solar-ready by reading about these few things that can affect your home's ability to have solar installed. 
Things that can impact a solar quote pricing:
Roof does not have adequate space
Trees or structures obstructing your available roof space
Your roof isn't in a condition to accommodate solar panels
If you run into one of these issues speak with your sales consultant, to move forward with installing your new PV system. These factors will not change the number of panels you will need but can have an impact on your total project cost. On top of that, there are alternative solutions which include: tree removal, roof repair or re-roofing work, and exploring options for ground mounts or solar structures.
Now that we've covered everything that goes into producing your solar quote, it is time to do some math. Use the chart below to approximate what size system and how many panels you will need to power your home.